(Hizen) Tadakuni (fss-635)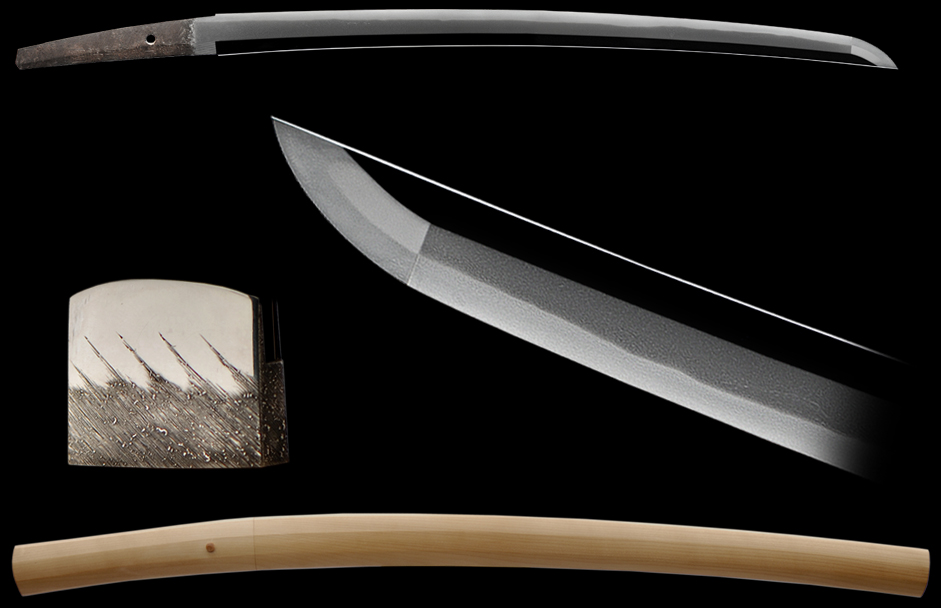 Hawleys:
TAD 80 (80 point smith!)
Fujishiro: TADAKUNI HARIMA NO DAIJÔ [KEIAN 1648 HIZEN] SHINTÔ JÔSAKU
He is the son of Hizen Yoshiie, and his family name is Hashimoto. In the beginning he inscribed the "MA" of Harima no Daijô as the "MA" of rub. [TN: The bottom radical in the kanji is the radical of "TE", or hand, rather than "ISHI" or stone. Look at the fourth and tenth items in the third phrase.] In looking at his works from Kan'ei to Kanbun, the older ones say HARIMA NYÛDÔ TAITETSU, and works can be seen which have a good form, ji is ko-moku, hamon is chû-suguba or an exuberant midareba. (Wazamono)
Signatures:
- HIZEN JÛ HARIMA NO DAIJÔ FUJIWARA TADAKUNI
- HARIMA NO DAIJÔ FUJIWARA TADAKUNI
- HIZEN JÛ HARIMA NYÛDÔ FUJIWARA TAITETSU
This is a very fine example of a sword made by the first generation Tadakuni. The hada is very beautiful and the overall shape of this sword is very elegant. This smith also had the title of HARIMA NO DAIJO. He was in the Shodai Tadayoshi Mon, and worked around Kan'ei (1624-1644). The Nidai Tadakuni also had the Title of Harima no Kami, but most of the swords signed that way are by the Shodai in his later years.
KANTEISHO
No. 153380
1, WAKIZASHI
Mei: HARIMA NO KAMI FUJIWARA TADAKUNI (SHODAI)
Length: 1 shaku 5 sun 3 bu
As a result of a shinsa at this organization, the above item has been designated a TOKUBETSU HOZON TOKEN, and is confirmed as authentic.
March 19, 2010
NBTHK
It is unusual for the NBTHK to name the generation, but they have on this sword of TOKUBETSU LEVEL. It is made from the first generation of this line of smiths.
This important sword comes in fresh polish, new silver habaki, shirasaya and with high level tokubetsu papers from the NBTHK.
Mei: HARIMA NO KAMI FUJIWARA TADAKUNI
Date: Around Keian 1648
Nagasa: 18 3/8 "
Sori: 9.0 mm
Width at the ha-machi: 29.0 mm
Width at the yokote: 19.5 mm
Thickness at the mune-machi: 6.3 mm
Construction: shinogi-zukuri
Mune: ior
Nakago: ubu
Kitae: Hizen hada
Hamon: midare suguba
Boshi: maru
Condition: fresh polish
This sword is on consignment.
(shipping and insurance included)
Email us if your interested in this item and remember to include the order number for this item: fss-635.
For Sale
Lou Desantos
7.2k to owner I think